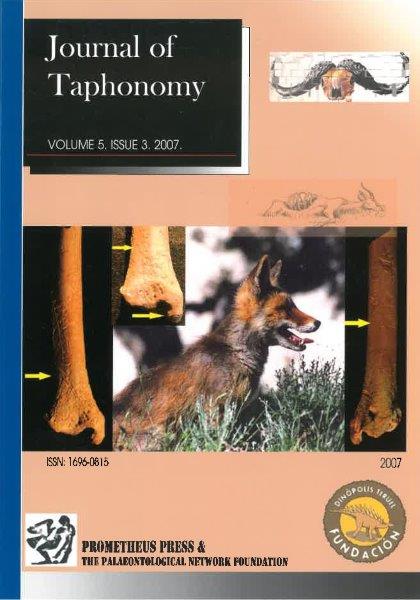 The Aquatic Genus Notonecta (Insecta: Heteroptera) as a Palaeo-ecological Indicator of Rhythmite Miming Sequences in Shallow Freshwater Deposits.
Jean-Claude Paicheler , André Nel, Jean-Claude Gall, Xavier Delclòs.
Keywords: INSECTA, NOTONECTIDAE, PALAEOLAKE, VOLCANO-SEDIMENTARY, LAMINAE FORMATION, MICROBIAL MATS, OLIGO-MIOCENE, TURKEY
Differential Fragmentation of Different Ungulate Body-Size: A Comparison of Gazelle and Fallow Deer Bone Fragmentation in Levantine Prehistoric Assemblages.
Reuven Yeshurun, Nimrod Marom, Guy Bar-Oz.
Keywords: PALEOLITHIC ZOOARCHAEOLOGY, TAPHONOMY, BONE FRAGMENTATION, SKELETAL COMPLETENESS, BONE SURVIVORSHIP, GAZELLE, FALLOW DEER, LEVANT