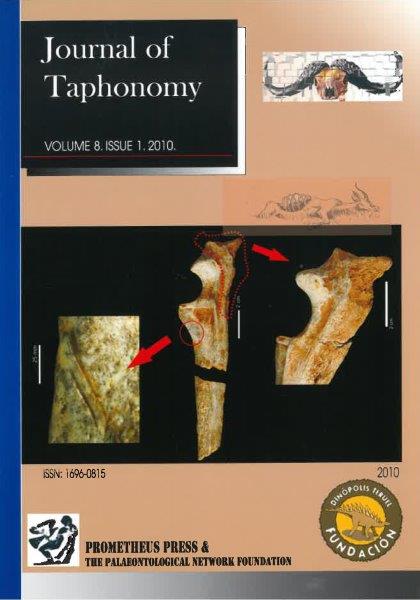 What Taphonomy Is, What it Isn't, and Why Taphonomists Should Care about the Difference.
R. Lee Lyman
Keywords: ARCHAEOLOGY, DEFINITIONS, I. A. EFREMOV, PALEONTOLOGY, TERMINOLOGY
[+info] VOLUME 8. ISSUE 1. 2010 (1 issue)
The term "taphonomy" was originally defined by paleontologist I. A. Efremov in 1940 as "the study of the transition (in all its details) of animal remains from the biosphere into the lithosphere." The term evolved to include plant remains because Efremov also indicated that taphonomy concerned the "transition from the biosphere to the lithosphere." The concept and the term were both adopted by zooarchaeologists who were interested in whether modified bones represented prehistoric tools or were concerned about the fidelity of the paleoecological signal of a collection of faunal remains. Until the middle 1970s, the term still meant what Efremov originally intended. When some archaeologists adopted the term to signify the formation and disturbance of the archaeological record and natural modification of artifacts, they caused the term to take on meanings different than those originally specified by Efremov. Taphonomy concerns once living material whereas archaeological formation processes concerns both once living and never living material; taphonomy concerns the transition from living to non-living and geological, so includes both natural and cultural formation processes as either biasing or information laden and of research interest whereas archaeological formation concerns the transition from a living system to a non-living geological one but natural processes are biasing whereas cultural formation processes are of research interest. Taphonomists should quietly inform archaeologists who misuse the term that in so doing they exacerbate confusion and misunderstanding.
Hyenas Around The City (Kashan, Iran).
Hervé Monchot, Marjan Mashkour.
Keywords: TAPHONOMY, EQUIDS, CANIDS, STRIPED HYENA, KAFTAR KHOUN, IRAN

[+info] VOLUME 8. ISSUE 1. 2010 (2 issue)
This paper presents a taphonomic study of faunal remains of domestic and wild mammals found in a striped hyaena (Hyaena hyaena) den at Kaftar Khoun in the Karkars Piedmont near the city gate of Kashan (Iran). The Kaftar Khoun faunal assemblage is characterized by a low degree of bone breakage with many of the long bones complete, an intermediate frequency of tooth marking and a moderate amount of weathering damage to the bones. The species list, and mortality profiles of the main taxa, suggests that the hyenas collected remains of domestic stock that died naturally or were hunted/scavenged (e.g. mules, donkeys), while the canids represent prey killed during conflicts over carcasses or were scavenged from road kills. The Kaftar Khoun den offers insights into the behaviour of striped hyenas in peri-urban environments. It shows that their behavioral adaptations are directly connected to modifications in their environment such that it may be considered as a commensal animal associated with human activities.
The Faunal Analysis of Magubike and Mlambalasi, Two MSA-LSA Archaeological Sites from Iringa District, Tanzania.
Benjamin R. Collins, Pamela R. Willoughby.
Keywords: ZOOARCHAEOLOGY, BONE SURFACE MODIFICATIONS, SKELETAL ELEMENT ABUNDANCES, SUBSISTENCE BEHAVIOUR, TANZANIA, IRON AGE
[+info] VOLUME 8. ISSUE 1. 2010 (3 issue)
Magubike (HxJf-01) and Mlambalasi (Hw-Jf-02) are two recently excavated archaeological sites from the Iringa District of southern Tanzania. Both sites contain lithic and faunal materials dating to the Iron Age, Later Stone Age and Middle Stone Age. Magubike and Mlambalasi are extremely unique sites, as they contain the only excavated sequence of Later Stone Age and Middle Stone Age faunal remains outside of northern Tanzania. The current study encompasses a preliminary taphonomic and zooarchaeological analysis of the faunal remains recovered during initial excavations at both sites in July and August of 2006. This research focuses on building a sound taphonomic framework of the formational histories for both sites, thereby allowing inferences to be drawn regarding the subsistence behaviours of the past occupants. The preservational condition of the faunal remains from the LSA and MSA levels currently precludes any insight into the subsistence behaviours from these periods. Subsistence behaviours were determined for the Iron Age assemblages and indicate that Magubike and Mlambalasi were repeatedly used campsites and that both exhibit possible differences in the treatment of small and large animals.
An Experiment on the Vertical Migration of Archaeological Materials in Clay Deposits.
Santiago Domínguez-Solera.
Keywords: CLAY, DIAGENESIS, VERTICAL MOVEMENT, BONES, EXPERIMENTAL TAPHONOMY
[+info] VOLUME 8. ISSUE 1. 2010 (4 issue)
Understanding how materials move under the ground after sedimentation has taken place is still a problem for taphonomists due to the constraints imposed by certain diagenetic processes to create analogical frameworks through experimentation where variables are hard to control. The present study addresses one of these processes and provides important information regarding how bones move horizontally and vertically in clay sedimentary deposits. An experiment was conducted for one year and the clays were exposed to periodic cycles of wetting and drying. The results indicate that plastic sediments are prone to modify the original position of bones. Bones move vertically but mostly without tilting. Vertical tilting is mostly associated with trampling or other (e.g., bioturbation) processes.