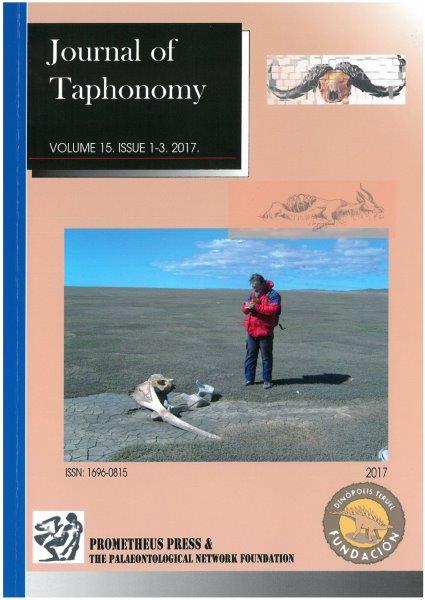 Naturalistic Observations on the Disarticulation of False Killer Whales (Pseudorca crassidens) Carcasses: Fifteen Years After.
Florencia Borella, Luis A. Borrero.
Keywords: WHALES, ORDER OF DISARTICULATION, NATURAL FORMATION PROCESSES, ZOOARCHAEOLOGICAL ASSEMBLAGES, PSEUDORCA CRASSIDENS, TIERRA DEL FUEGO
Natural Accumulation and Distribution of Guanaco Bones in the Southernmost Tip of Tierra del Fuego (Argentina): Taphonomic Analysis and Archaeological Implications.
Daniela V. Alunni, María A. Gutiérrez, Atilio F. Zangrando.
Keywords: ACTUALISTIC TAPHONOMY, MODERN BONE ACCUMULATION AND PRESERVATION, GUANACO (LAMA GUANICOE), SITE FORMATION PROCESS, COASTAL ENVIRONMENTS, MOAT BAY
Taphonomic Effects of a Grassland Fire on a Modern Faunal Sample and its Implications for the Archaeological Record.
María C. Álvarez, Agustina Massigoge, Nahuel Scheifler, Mariela E. Gonzalez, Cristian Kaufmann, María A. Gutiérrez, Daniel J. Rafuse.
Keywords: NATURALISTIC TAPHONOMY, GRASSLAND FIRE, VERTEBRATE BONES, THERMAL ALTERATION
The Role of the Accipitriformes Geranoaetus melanoleucus and Geranoaetus polyosoma as Small Mammal Bones Accumulators in Modern and Archaeological Sites from Central Western Argentina.
José Manuel López, Fernando J. Fernández, Claudia I. Montalvo, Horacio Chiavazza, Luciano, J.M. De Santis.
Keywords: TAPHONOMY, ACTUALISTIC MODEL, ZOOARCHAEOLOGY, MICROMAMMALS, CENTRAL WESTERN ARGENTINA, RAPTORS
First Steps into the Microscopic Metrical Characterization of Bone Weathering in a Sample of Modern Guanaco (Lama guanicoe) from Southern Patagonia, Argentina: Implications for Patterns of Intraosseous Differential Preservation.
Natalia Morales, Gustavo Barrientos, Juan Bautista Belardi.
Keywords: PATAGONIA, LAMA GUANICOE, LONG BONES, DIFFERENTIAL INTRAOSSEOUS PRESERVATION, WEATHERING