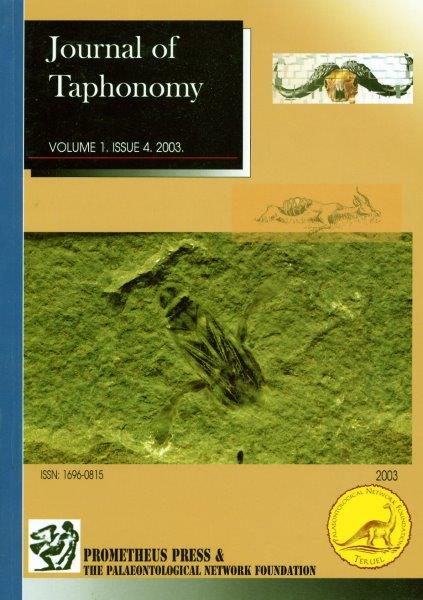 Structural and Chemical Bone Modifications in a Modern Owl Pellet Assemblage from Olduvai Gorge (Tanzania).
Yannicke Dauphin, Peter Andrews, Christiane Denys, Yolanda Fernández-Jalvo, Terry Williams.
Keywords: BONE, REGURGITATION PELLETS, OLDUVAI, CHEMICAL COMPOSITION, ORGANIC MATRICES
[+info] VOLUME 1. ISSUE 4. 2003 (1 issue)
A modern regurgitation pellet assemblage created by an unknown avian predator from Olduvai Gorge (Tanzania) was analyzed taphonomically and chemically. The combined use of several analytical techniques allowed us to determine some characteristic effects of bone surface modification induced by the predator´s digestive process. Based on these analyses, it is suggested that the predator is Bubo lacteus, Verreaux´s eagle owl. The chemical analyses of the mineral and organic components of the bones show only small changes in composition and proportion. However, the small alterations favour the hypothesis of post-predation diagenetic changes, which may create bias in the preservation of different types of bones.
Taphonomy of Freshwater Turtles: Decay and Disarticulation in Controlled Experiments.
Leonard R. Brand, Michael Hussey, John Taylor.
Keywords: TAPHONOMY, TURTLE, TESTUDINES, DECAY, DISARTICULATION, BIOSTRATINOMY, EXPERIMENTAL TAPHONOMY
[+info] VOLUME 1. ISSUE 4. 2003 (2 issue)
We conducted an experimental study of the timing and nature of taphonomic processes in turtles that allowed a comparison among different environments. We documented decay and disarticulation of freshly-killed aquatic turtles in controlled settings, including freshwater and seawater aquaria, and outdoor terrestrial settings protected from scavengers. The study area was in hot and dry southern California, with scattered winter rains. We transferred some specimens after 53 days from the terrestrial environment to one of two other environments - freshwater, or an outdoor terrestrial cage - simulating increased rainfall. In water, turtle flesh decayed by bacterial action in three and a half to five months, but insect larvae removed the flesh from terrestrial carcasses within two weeks, leaving dry, desiccated carcasses. Turtles disarticulated most rapidly in water, followed by the high rainfall treatment, then dry terrestrial. The sequence of disarticulation of different bones from the body varied considerably, especially in the terrestrial treatment, but there were some consistent trends. Heads and necks, tails, and limbs tended to disarticulate early in the process. Next the carapace, and lastly, the plastron, disarticulated. Minor weathering occurred on the inside surface of some shell bones in the terrestrial environment. These data provide a basis for estimating maximum length of exposure of fossil turtles before burial and for comparison of turtle taphonomy with taphonomy of other small vertebrates.
Biostratinomic Patterns in Archosaur Fossils: Influence of Morphological Organization on Dispersal.
Cambra-Moo, O. & Buscalioni, A. D.
Keywords: TAPHONOMY, BIOSTRATINOMY, DISPERSAL STAGES, DISPERSAL SEQUENCES, ARCHOSAURS.
[+info] VOLUME 1. ISSUE 4. 2003 (3 issue)
The dispersal of 122 specimens of fossil archosaurs and lepidosaurians from different localities throughout the world, catalogued as fossil-lagerstätten, has been characterized. The analysis is based on the quantification of dispersal by the evaluation of burial position, anatomical disarticulation, overlap and significant absences of bony elements. Our goal is to identify commonalities of morphological organization, and to reveal dispersal patterns. First, we explore a theoretical space of burial positions, and seek logical alignments of variables in order to understand the sequence of the earliest biostratinomic phenomena. Dinosauria and the basal avian specimens (Archaeopteryx-like organisms) are biased towards lateral burials with crossed forelimbs or hindlimbs. Pterosauria and Ornithuromorpha have ambivalent burial positions, while Enantiornithes and Confuciusornithidae adopt preferentially dorso-ventral burial positions. There is a significantly negative regression coefficient relating overlap and disarticulation-absence. A high percentage overlap corresponds to a high percentage articulation and completeness of body elements, particularly in laterally lying fossils. Conversely, overlap and disarticulation are not significantly related in specimens with a dorso-ventral burial position. Ambivalence in burial positions is associated with singularities in disarticulation patterns. Aves and Pterosauria both diverge from the general disarticulation sequence of diapsids. The results indicate that dispersal has a strong biological component at least in the initial steps of the biostratinomic process.