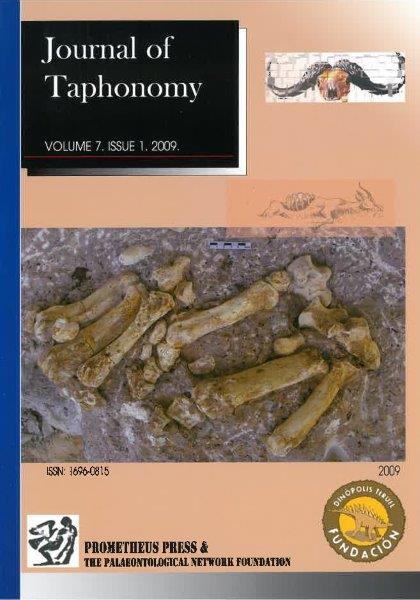 Human Chewing Bone Surface Modification and Processing of Small and Medium Prey Amongst the Nukak (Foragers of the Colombian Amazon).
Gustavo Martínez
Keywords: NUKAK FORAGERS, COLOMBIAN TROPICAL RAIN FOREST, SMALL-MEDIUM MAMMALS BUTCHERING, BONE SURFACE MODIFICATIONS, HUMAN CHEWING
[+info] VOLUME 7. ISSUE 1. 2009 (1 issue)
This paper explores aspects related to management and exploitation of faunal resources by the Nukak (Guaviare Department, Colombian Amazon), a hunter-gatherer tropical rain forest group. Although this group hunts a variety of vertebrates, this analysis only focuses on monkey and peccary which are the main species that are exploited. Due to the different sizes of these prey and to non economic factors such as taboos, the Nukak display a wide variety of animal exploitation. Data related to observations on Nukak hunting, butchering, transport, cooking, dismembering process and consumption will be combined with the information coming from the study of bone surface modifications. Thus, human behavior related to the production of bone surface modifications (e.g., cut marks, fractures, burning, chewing, etc.) derived from Nukak prey treatment are discussed. It is also proposed that chewing traits on bone surfaces were produced by humans.
Taphonomic Aspects of African Porcupines (Hystrix cristata) in the Kenyan Highlands.
Job Munuhe Kibii
Keywords: GNAWING, BONE ACCUMULATION, KERATIN, NUTRIENT ACQUISITION

[+info] VOLUME 7. ISSUE 1. 2009 (2 issue)
Three porcupine (Hystrix cristata) burrows were investigated in the tea growing region of central Kenya. Owing to the fact that the region is largely devoid of bones, the porcupines are forced to collect and gnaw discarded plastics. My results contradict the hypothesis that H. africaeaustralis and H. cristata collect and gnaw bone to obtain nutrients. This hypothesis implies that porcupines evolved continuously growing incisors in response to a diet supplemented by hard resources. My findings instead support the hypothesis that porcupines collect and gnaw hard organic and inorganic items as a behavioral adaptation to hone and trim their continuously growing incisors.
Volumetric BMD Values of Archaeological Human Bone Remains with pQCT and DEXA.
Jorge Alejandro Suby, Ricardo Aníbal Guichon, Gustavo Cointry, José Luis Ferretti.
Keywords: VOLUMETRIC BONE MINERAL DENSITY, HUMAN BONES, pQCT – DEXA
[+info] VOLUME 7. ISSUE 1. 2009 (3 issue)
Bone mineral density (BMD) is a mediating factor of some attritional taphonomic processes. In the last few decades BMD has been successfully employed to assess differential preservation in faunal archaeological samples. In contrast, the BMD of human remains was scarcely studied with taphonomic purposes. Moreover, there is some controversy concerning the reliability of the methods proposed to evaluate this bone property. In this study, we determined the human postcranial volumetric BMD (vBMD) of an archaeological assemblage from Tierra del Fuego (Argentina), with peripheral quantitative computed tomography (pQCT) and area BMD with X-ray densitometry (DEXA). Although the pQCT-assessed vBMD values were more accurate and offer important biomechanical references, the information given by the shape-adjusted vBMD values calculated from DEXA aBMD data is also reliable and provides enough resolution for detection of BMD-related taphonomic processes.
Taphonomic Applications of Georadar.
Ilya V. Buynevick.
Keywords: GPR, FOSSILS, HYPERBOLIC, PALEO-CHANNEL, AEOLIAN

[+info] VOLUME 7. ISSUE 1. 2009 (4 issue)
Taphonomic research, particularly in vertebrate paleontology and archaeology, relies on the analysis of geological context of fossils or artifacts. Ground-penetrating radar is an effective high-resolution subsurface imaging technique that can be used not only for locating buried objects (decimeter-scale or larger), but also for visualizing their in situ geological context. The records often reveal sediment deformation structures around a buried target and allow imaging below the water table, often inaccessible by other methods. This paper presents examples of recent settings (ephemeral inlet channel and active dune) to illustrate the use of georadar in resolving both continuous (geological) and pointsource (three-dimensional objects) features. When complemented with excavations or exposures, subsurface images become an important part of taphonomic investigation by paleontologists and archaeologists.