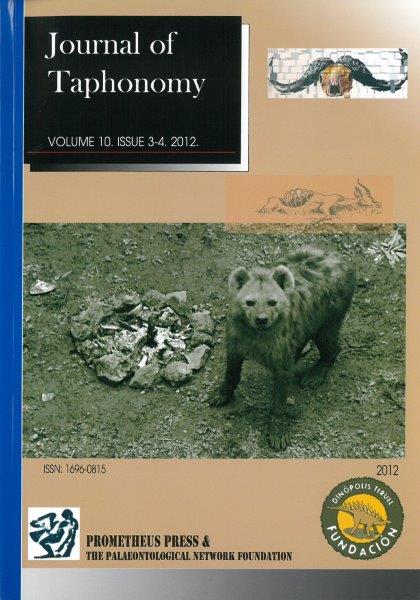 Bone Modification by Modern Wolf (Canis lupus): A Taphonomic Study From their Natural Feeding Places.
Philippe Fosse, Nuria Selva, Wojciech Smietana, Henryk Okarma, Adam Wajrak, Jean Baptiste Fourvel, Stéphane Madelaine, Montserrat Esteban-Nadal, Isabel Cáceres, José Yravedra, Jean Philip Brugal, Audrey Prucca, Gary Haynes.
Keywords: TAPHONOMY, WOLF, BONE DESTRUCTIONS, SCATS
Late Pleistocene Large Mammal Paleocommunities: A Comparative Study Between Localities with Brown Bear (Ursus arctos), Cave bear (U. spelaeus) and Mousterian Lithic Assemblage.
Suvi Viranta, Aurora Grandal d'Anglade.
Keywords: URSUS SPELAUS, URSUS ARCTOS, MOUSTERIAN CULTURE, PALEOCOMMUNITY, EXTINCTION
Dhole (Cuon alpinus) as a Bone Accumulator and New Taphonomic Agent? The Case of Noisetier Cave (French Pyrenees).
Jean-Baptiste Mallye, SandrineCostamagno, MyriamBoudadi-Maligne, Audrey Prucca, Véronique Lauroulandie, Céline Thiébaut, VincentMourre.
Keywords: DHOLE, CUON, COPROCOENOSIS, TAPHONOMY, NOISETIER CAVE, BONE ACCUMULATION, DIGESTION, LATE PLEISTOCENE
Carcass Acquisition and Consumption by Carnivores and Hominins in Middle Pleistocene Sites of Casablanca (Morocco).
Camille Daujeard, Denis Geraads, Rosalia Gallotti, Abderrahim Mohib, Jean-Paul Raynal.
Keywords: HOMININS, CARNIVORES, MOROCCO, MIDDLE PLEISTOCENE, SUBSISTENCE, COMPETITION, BONE ACCUMULATORS
Did Neanderthals and Carnivores Compete for Animal Nutritional Resources in the Surroundings of the Cave of Zafarraya?
Miguel Caparrós, Cecilio Barroso Ruíz, Anne Marie Moigne, Antonio Monclova Bohorquez.
Keywords: ZAFARRAYA, NEANDERTHALS, CARNIVORES, INTERACTIONS, HERBIVORES, CAPRA PYRENAICA, LITHICS, PATH ANALYSIS
The Complex Carnivore-rich Assemblages from Furninha (Peniche, Portugal): a Multidisciplinary Approach.
Jean-Philip Brugal, Jacqueline Argant, José António Crispim, Silvério Figueiredo, Alberto Martín Serra, Paul Palmqvist.
Keywords: CARNIVORES, PLEISTOCENE, PORTUGAL, TAPHONOMY, TAXONOMY, ENVIRONMENT, ECOLOGY, COMPETITION
Evidences of Interaction Homo-Cuon in three Upper Pleistocene Sites of the Iberian Mediterranean Central Region.
Juan Vicente Morales Pérez, Alfred Sanchis Serra, Cristina Real Margalef, Manuel Pérez Ripoll, Joan Emili Aura Tortosa, Valentín Villaverde Bonilla.
Keywords: CUON, HUMANS, INTERACTION, ACCUMULATION, ANTHROPIC MARKS, UPPER PLEISTOCENE, IBERIAN MEDITERRANEAN
Multidisciplinary Approach to two Chatelperronian Series: Lower IX Layer of Labeko Koba and X Level of Ekain (Basque Country, Spain).
Aritza Villaluenga, Alvaro Arrizabalaga, Joseba Rios-Garaizar.
Keywords: URSUS SPELAEUS, CROCUTA CROCUTA SPELAEA, CHATELPERRONIAN, LABEKO KOBA, EKAIN, TAPHONOMY, LITHIC TECHNO-TIPOLOGY, USE-WEAR ANALYSIS
Cave Bear (Ursus spelaeus Rosenmüller Heinroth, 1794) and Humans During the Early Upper Pleistocene (Lower and Middle Palaeolithic) in Lezetxiki, Lezetxiki II and Astigarragako Kobea (Basque Country, Spain). Preliminary Approach.
Aritza Villaluenga, Pedro Castaños, Alvaro Arrizabalaga, Jose Antonio Mujika Alustiza.
Keywords: URSUS SPELAEUS DENINGEROIDE, URSUS SPELAEUS, EARLY UPPER PLEISTOCENE, LOWER PALAEOLITIHIC, LEZETXIKI, LEZETXIKI II, ASTIGARRAGAKO KOBEA, ARCHAEOZOOLOGY, TAPHONOMY
Bears and Hyenas from the Latest Pleistocene of Southern Iberia: Sima de Abraham, Priego de Córdoba, Andalusia.
Rafael María Martínez-Sánchez, Juan Manuel López-García, Antonio Alcalá-Ortíz, Hugues-Alexandre Blain, Raquel Rabal-Garcés, María Dolores Bretones-García, Joaquín Rodríguez-Vidal, Arancha Martínez-Aguirre.
Keywords: BEARS, HYENAS, CUT MARKS, LATE PLEISTOCENE, SINKHOLES, SOUTHERN IBERIA