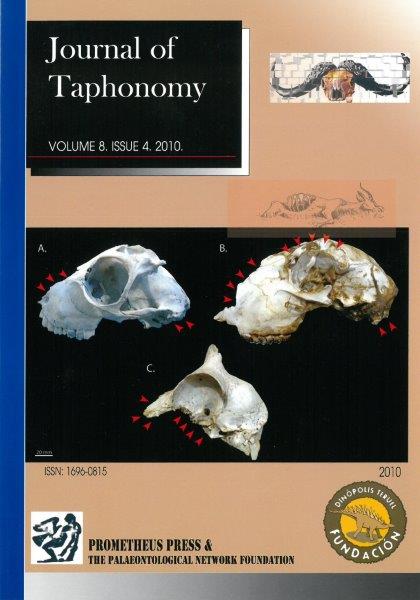 The Eurasian Eagle Owl (Bubo bubo): a Fish Bone Accumulator on Pleistocene Cave Sites?
Hannah Russ
Keywords: FISH BONES, EAGLE OWL, BUBO BUBO, LATE PLEISTOCENE, ACCUMULATION AGENTS

[+info] VOLUME 8. ISSUE 4. 2010 (1 issue)
The Eurasian eagle owl (Bubo bubo) is frequently recognised as an accumulator of skeletal remains on archaeological sites. To date, research on this species as an accumulator has focused on mammalian and avian prey, especially in cases where material could be potentially mistaken for human refuse. Here, the potential for the eagle owl to deposit fish remains on archaeological sites, specifically caves sites in Europe dating to the Late Pleistocene, is considered. Fish remains from Late Pleistocene cave sites are often assumed to represent food waste accumulated by humans, however, taphonomic signatures for fish remains deposited by piscivorous and fish eating faunas have not yet been identified. Using archaeological and ecological research, the potential for the eagle owl to produce fish bone accumulations on Pleistocene cave sites is recognised. Foundations for a taphonomic signature for fish remains produced by the eagle owl are suggested based on recorded fish prey species, associated prey species and likely spatial distribution. Areas for further research are identified.
Element Survivability of Salmo salar.
Benjamin R. Collins
Keywords: SALMON, ELEMENT SURVIVABILITY, BONE DENSITY, TAPHONOMY, EXPERIMENTAL RESEARCH
[+info] VOLUME 8. ISSUE 4. 2010 (2 issue)
Fish represent an important resource to people living near water sources. However, the visibility of fish remains within the archaeological record is generally considered to be reduced compared with other taxa, in part because of their greater susceptibility to natural processes of taphonomic attrition. This experimental pilot study focused on testing the durability of fish elements by comparing the survivability of denser post-cranial elements with less dense cranial elements in a range of pH solutions. Data obtained from these observations were subjected to a statistical analysis that revealed several trends. No significant difference was observed between the survivability of cranial and post-cranial elements, however, a significant difference was noted for the impact of pH on element survivability. In general, both more acidic and basic environments were observed as detrimental factors for fish element survivability.
A Taphonomic Perspective on the Origins of the Faunal Remains from Amalda Cave (Spain).
Jose Yravedra
Keywords: TAPHONOMY, ZOOARCHAEOLOGY, UPPER PLEISTOCENE, IBERIAN PENINSULA, TOOTH MARKS, CUT MARKS
[+info] VOLUME 8. ISSUE 4. 2010 (3 issue)
Some traditional zooarchaeological analyses assume that faunal assemblages associated with stone tools are basically the result of human behaviour. Under this view, in previous research of the Palaeolithic site of Amalda Cave, the site was defined as a fully anthropogenic assemblage. In this paper, new taphonomic analyses show a different interpretation, since in some cases, the associations of bones and stone tools are created and modified by more than one agent in a succession of events. In Amalda Cave, the high frequencies of tooth marks on some animal bones, in contrast to the marginal percentages of cut and percussion marks, as well as the fragmentation profiles, suggest that carnivores played a major role in the accumulation of small-sized animals. On the other hand, medium-sized and large-sized animals show high percentages of cut marks and other evidences of human behaviour in detriment of carnivore modification. The present review leads to the conclusion that carnivores were the main agent for the accumulation of small-sized animals, while hominids enjoyed a primary access to larger carcasses. This study underscores the crucial role of taphonomy to understand the zooarchaeological record of the Iberian Peninsula.