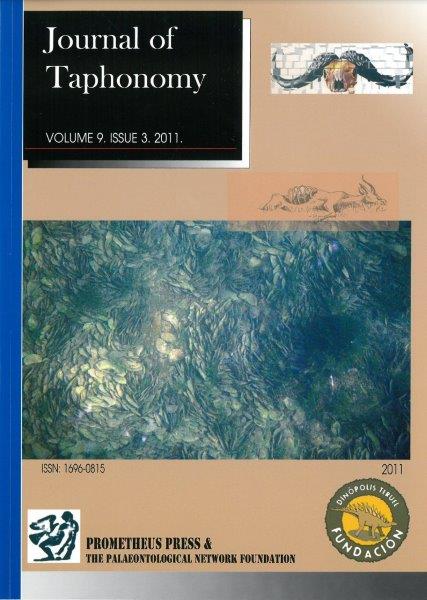 Suid Bone Marrow Yields and How They May Influence Resource Choice.
Gillian L. Edwards, Teresa E. Steele.
Keywords: BONE MARROW, FAT, DOMESTIC PIG, WILD BOAR, EXPERIMENTAL ARCHAEOLOGY, TAPHONOMY, WILDEBEEST, IMPALA

[+info] VOLUME 9. ISSUE 3. 2011 (1 issue)
Marrow is a valuable source of energy, fat, and nutrients that has been exploited by prehistoric and historic peoples across many different environments. Previous experiments on marrow yields have provided new insights into the nutritional value of many ungulates that were important to the diets of past hominins. However, few studies have been conducted on suids. To investigate the caloric value of suid marrow, we broke ten humeri, seven radii, eight femora and seven tibiae of domestic pig and two of each of these elements of wild boar (both Sus scrofa) limb bones using the hammerstone and anvil technique. The marrow inside was removed and dried so that its kilocaloric value could be calculated. In this paper we compare and discuss the kilocaloric yields of males and females, different elements, and different age groups and conclude that, beyond seasonality, body size and age are potential indicators of marrow kilocaloric yields. Further, we compare our data to available data on impala (Aepyceros melampus) and wildebeest (Connochaetes taurinus), and we conclude that these ungulates provided more marrow than suids, and therefore they may have provided more benefits as a food resource.
Diagenetic Changes in Pleistocene Mollusc Shells of the Patras-Corinth Rift (Greece).
Yannicke Dauphin, Alain Denis, Denis Sorel.
Keywords: MOLLUSC SHELLS, PLEISTOCENE, DIAGENESIS, MICROSTRUCTURES, ORGANIC MATRICES
[+info] VOLUME 9. ISSUE 3. 2011 (2 issue)
Modern mollusc shells and samples from the Pleistocene of the Patras-Corinth rift (Greece) have been studied to determine the state of preservation of the microstructures. Diagenetic effects are highly variable within the site, within a shell, and within a structural layer. The strongest effects have destroyed the microstructures. Some microstructural changes are correlative of a mineralogical change (aragonite to calcite). The comparison of soluble organic matrices extracted from modern and "well-preserved" fossil shells shows there is a loss of organic matrices in fossil shells even in still aragonitic samples. Moreover, the composition of the organic matrices is also altered. From these data, it appears that diagenetic alterations are still unpredictable. Thus, the only control of the mineralogy of carbonate skeletons used as proxies for palaeoenvironmental reconstructions, to establish tectonic movements, or for dating is necessary, but insufficient.
Flaked Stone Taphonomy: a Controlled Experimental Study of the Effects of Sediment Consolidation on Flake Edge Morphology.
Metin I. Eren, Andrew R. Boehm, Brooke M. Morgan, Rick Anderson, Brian Andrews.
Keywords: TAPHONOMY, FLAKED STONE TOOLS, EXPERIMENTAL ARCHAEOLOGY, SEDIMENT CONSOLIDATION, GRAVEL, PRESSURE
[+info] VOLUME 9. ISSUE 3. 2011 (3 issue)
Sediment consolidation can influence both stone flake artifact inclination and vertical displacement. In this paper we present a novel experiment for investigating the effect of sediment consolidation on the morphology of stone flakes. Focusing specifically on the variables of gravel size and pressure, we show that sediment consolidation does not appear to result in the creation of retouched assemblages from nonretouched ones. Bend-break fractures via sediment consolidation did occur at higher frequencies, and as such the occurrence of bend-breaks needs further experimentation to tease out other specific contexts in which they occur. Overall, however, our experimental results suggest that in most cases archaeologists should not be concerned with sediment consolidation altering the appearance of flaked stone assemblages.