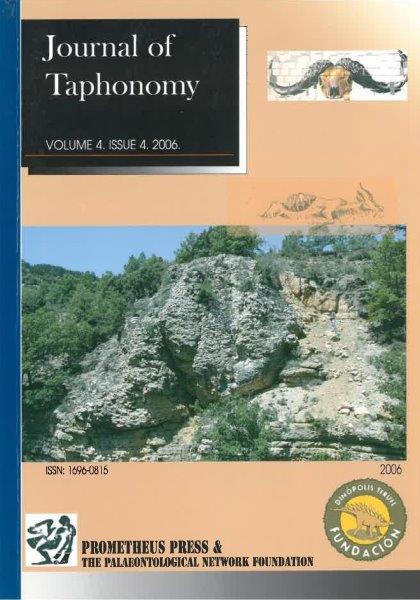 By Ice Age Spotted Hyenas Removed, Cracked, Nibbled and Chewed Skeleton Remains of Coelodonta antiquitatis (BLUMENBACH 1799) from the Lower Weichselian (Upper Pleistocene) Freeland Prey Deposit Site Bad Wildungen-Biedensteg (Hessia, NW Germany).
Cajus G. Diedrich
Keywords: WOOLLY RHINOCEROS, SKELETON AND BONE TAPHONOMY, ICE AGE SPOTTED HYENA, PREY DEPOSIT FREELAND SITE, EARLY UPPER PLEISTOCENE
Possible Taphonomic Bias in the Preservation of Phosphatic Macroinvertebrates in the Uppermost Maquoketa Formation (Upper Ordovician) of Northeastern Iowa (North-Central USA).
Heyo Van Iten, Michael Lichtenwalter, Juliana de Moraes Leme, Marcello Guimarães Simões.
Keywords: TAPHONOMY, PRESERVATIONAL BIAS, PHOSPHATIC FOSSILS, CONULARIIDS, SPHENOTHALLUS, ORDOVICIAN