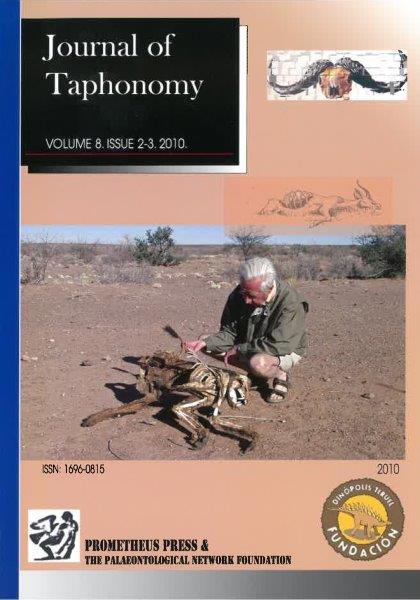 Using Strontium Isotopes to Study Site Accumulation Processes.
Sandi R. Copeland, Matt Sponheimer, Julia A. Lee-Thorp, Darryl J. de Ruiter, Petrus J. le Roux, Vaughan Grimes, Daryl Codron, Lee R. Berger, Michael P. Richards.
Keywords: STRONTIUM ISOTOPES, CAVE FILL, TAPHONOMY, FOSSIL RODENTS, STERKFONTEIN, SWARTKRANS, GLADYSVALE
A Multivariate Approach for Discriminating Bone Accumulations Created by Spotted Hyenas and Leopards: Harnessing Actualistic Data from East and Southern Africa.
Manuel Domínguez-Rodrigo, Travis Rayne Pickering.
Keywords: SKELETAL PART PROFILES, BONE SURFACE MODIFICATIONS, CARNIVORE TOOTH MARKS, PREY MORTALITY PROFILES, MULTIVARIATE APPROACH
Where the Wild Things Were: Spatial and Temporal Distribution of Carnivores in the Cradle of Humankind (Gauteng, South Africa) in Relation to the Accumulation of Mammalian and Hominin Assemblages.
Sally C. Reynolds
Keywords: LARGE CARNIVORES; STERKFONTEIN; SWARTKRANS, SPATIAL PATTERNS, TEMPORAL CHANGES; EXTINCTIONS