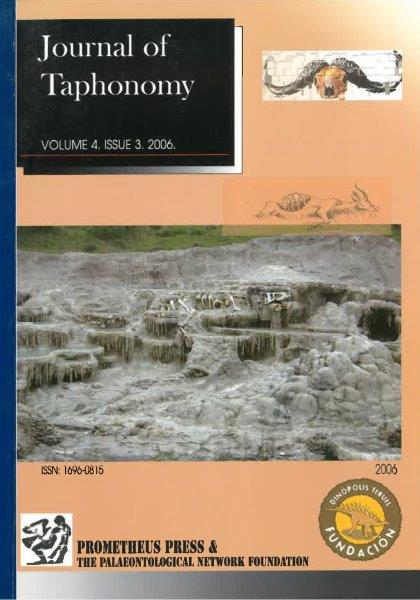 Taphonomic Alteration and Evolutionary Taphonomy.
Sixto R. Fernández-López
Keywords: PRESERVATION POTENTIAL, TAPHONOMIC DURABILITY, FOSSILIZATION POTENTIAL, FOSSILIZATION THEORY, AMMONITES
[+info] VOLUME 4. ISSUE 3. 2006 (1 issue)
Every process of taphonomic alteration implies change and modification of the affected taphonomic elements, but it does not necessarily lead to the destruction of taphonomic elements. Taphonomic alteration can be of four types: elementary, populational, taphonic and taphocladal. In order to interpret the differential preservation of fossils and fossilization mechanisms it is necessary to take in mind not only the original architecture of taphonomic elements and the environmental changes, but also the successive changes in architecture of taphonomic elements and the activities carried out by taphonomic elements, as well as the evolutionary modifications of taphons and taphoclades. This systemic and evolutionist procedure allows to explain how the representatives of some taphons or taphoclades have been able to end up being preserved outside of the limits of tolerance of the originally produced taphonomic elements.
Taphonomic Characteristics of Micromammals Predated by Small Mammalian Carnivores in South Africa: Application to Fossil Accumulations.
Thalassa Matthews
Keywords: SMALL CARNIVORES, MICROMAMMALS, TAPHONOMY, PREDATOR, PREY
[+info] VOLUME 4. ISSUE 3. 2006 (2 issue)
Micromammal (Murid, Soricid, Macroscelid and Chrysochlorid) bones and teeth may become incorporated into palaeontological and archaeological sites through the deposition of scats from small carnivores, or the regurgitated pellets of owls or diurnal birds of prey. The pellets and scats disaggregate over time leaving behind accumulations of micromammal bones and teeth. Such accumulations are frequently used in palaeoclimatic and palaeoecological research. This paper presents the results of a comparative taphonomic study of the micromammal assemblages recovered from the scats of some African species of small mammalian carnivore (including the genet (Genetta genetta), caracal (Felis caracal) and serval (Felis serval)) with the aim of investigating the digestion patterns produced by these predators in order to ascertain what taphonomic signature they are likely leave in fossil micromammal accumulations. The incisor digestion patterns from the comparative assemblages suggest that certain African small carnivores produce assemblages with 100% of teeth showing light to moderate digestion. The taphonomic signature of the caracal is compared to that of other previously researched felid species and results indicate that there is considerable variation within the Felidae. The incisor digestion patterns of the small carnivores investigated suggest that the mixing of a small carnivore assemblage from a predator such as the genet with a category 1 predator would produce a pattern of incisor digestion similar to that produced by a category 2 or category 3 predator. It is clearly important to establish the taphonomic patterns of assemblages produced by southern African small carnivore species in order to ascertain exactly what characteristics distinguish the small carnivores scat assemblages from each other, and from other categories of predator. This is turn will provide information which can be used to identify and interpret fossil micromammal assemblages which have been accumulated by more than one species of predator.
Surveying for Ungulate Skeletal Remains in Mediterranean Mountainous Habitats: a Quantitative Approach and Potential Use in Population Dynamics.
Emmanuel Serrano, Jesús M. Pérez , Charles P. Egeland, Pere Bover, Luis Gállego.
Keywords: BONE REMAINS, POPULATION MONITORING, MORTALITY RATES, UNGULATES
[+info] VOLUME 4. ISSUE 3. 2006 (3 issue)
Our research has estimated the frequency of occurrence of bone remains from ungulates in the Mediterranean area (Sistema Bético). We sampled a total of 36 transects and found an average of 4.9 ungulate bones per transect. Despite three fairly complete carcasses collected, still bearing soft tissues, long bones from the appendicular skeleton are the most common element type. The use of this source of data within global monitoring programs of wild ungulate populations is discussed.