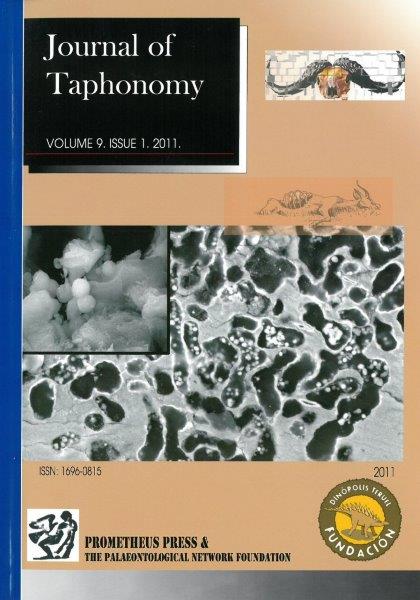 How Can Taphonomy Be Defined in the XXI Century?
Manuel Domínguez-Rodrigo, Sixto Fernández-López, Luis Alcalá.
Keywords: TAPHONOMY, ARCHAEOLOGY, PALAEONTOLOGY, PALAEOBIOLOGY, BIOSTRATINOMY, FOSSIL-DIAGENESIS

[+info] VOLUME 9. ISSUE 1. 2011 (1 issue)
Taphonomy, as a branch of learning and a research area, has undergone a tremendous growth in the past few decades. It has extended its application from palaeontology to other disciplines, it has broadened its referential scope and has incorporated humans as taphonomic agents. This has affected the way taphonomy is perceived by its practitioners and requires a modification of its definition, following a process that is common in most evolving natural science disciplines.
Badger (Meles meles) Remains Within Caves as an Analytical Tool to Test the Integrity of Stratified Sites: The Contribution of Unikoté Cave (Pyrénées-Atlantiques, France).
Jean-Baptiste Mallye
Keywords: BADGER, BIOTURBATION, TAPHONOMY, SPATIAL ANALYSIS, REFITTINGS, SITE FORMATION PROCESSES, UNIKOTÉ CAVE
[+info] VOLUME 9. ISSUE 1. 2011 (2 issue)
This papers deals with the analysis of Eurasian badger (Meles meles) remains in an archaeological context. Eurasian badgers dig large burrows as living structures and so the identification of their remains in archaeological context appears doubtful. More than 400 remains of these small carnivores were recovered from Unikoté Cave. This site is assumed to be a hyena den with the occurrence of human remains and lithic artefacts. In this paper, we aimed to: 1) explain how and why so many remains of these carnivores are recognised at Unikoté Cave; 2) evaluate the role of Eurasian badgers in site formation processes and 3) to test the archaeological relevance of a bioturbated site.
A Taphonomic Study of Wild Wolf (Canis lupus) Modification of Horse Bones in Northwestern Spain.
José Yravedra, Laura Lagos, Felipe Bárcena.
Keywords: TAPHONOMY, WOLF, WILD HORSE, HUNTING, SCAVENGING, TOOTH MARKS
[+info] VOLUME 9. ISSUE 1. 2011 (3 issue)
Taphonomic studies of carnivores have become an integral part of taphonomic research in the past two decades. These studies are developing a referential framework for the identification of carnivore signature variety in the fossil record. Hyaenas and felids are predominant in these studies, whereas other carnivores such as wolves have not received as much attention yet. This paper analyses wild horse carcasses processed by wild wolves and discusses the implications for the study of site formation in the Euroasian Pleistocene. Carcasses have undergone different kinds of consumption by wild wolves and show important differences in the degree of bone modification according to wolf hunting and scavenging strategies. The different degree of bone destruction when consumed in one or many events is also discussed.