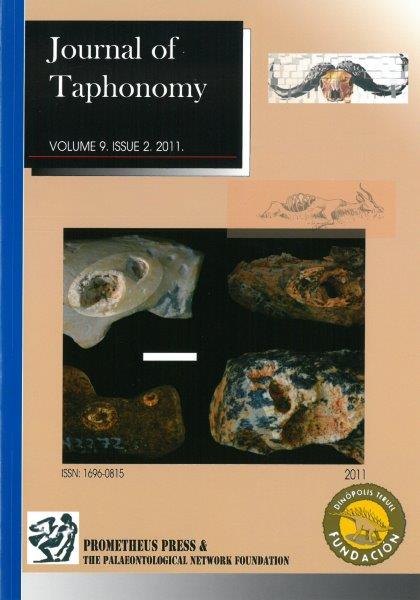 The Likely Accumulators of Bones: Five Cape Porcupine Den Assemblages and the Role of Porcupines in the Post-Member 6 Infill at Sterkfontein, South Africa.
Hannah J. O'Regan, Kathleen Kuman, Ronald J. Clarke.
Keywords: HYSTRIX AFRICAEAUSTRALIS, GNAWING, BONE MODIFICATION, ACCUMULATION

[+info] VOLUME 9. ISSUE 2. 2011 (1 issue)
The Cape porcupine, Hystrix africaeaustralis, is an acknowledged accumulator of bones in southern Africa. Here we examine porcupine accumulated material from five localities in the Kgalagadi Transfrontier Park, including a re-analysis of the Nossob lair published by Brain (1981). These results are then compared to a Mid-Late Pleistocene assemblage (L/63) from Post-Member 6 at Sterkfontein. The taphonomic analyses indicate that porcupines are indiscriminate collectors of bones and other items. Unlike many other vertebrate bone accumulators porcupines do not appear to have a collection size bias, as the species represented in the assemblages range in body mass from >0.14kg to <940kg. Not all bones collected had been gnawed, and we propose a threshold of >60% gnawed bones is needed to establish that material has been collected by Cape porcupines rather than as a result of a number of other sources. Of the macrovertebrate component of the L/63 fossil assemblage, only 149 specimens exhibited porcupine gnawing (11%), while that number rose to 263 (6.97%) of the total NISP and fragment count (n= 3775). This is well below the threshold proposed in this analysis and in the published literature, indicating that porcupines are unlikely to have been a primary contributor to the L/63 assemblage. The possible role of porcupines in creating and maintaining mosaic environments through their foraging activities is also discussed.
The Functioning of a Natural Faunal Trap in a Semi-Arid Environment: Preliminary Investigations of WZM-1, a Limestone Sinkhole Site Near Wadi Zarqa Ma'in, Hashemite Kingdom of Jordan.
James T. Pokines, April Nowell, Michael S. Bisson, Carlos E. Cordova, Christopher J. H. Ames.
Keywords: WADI ZARQA MA'IN 1, SINKHOLE, FAUNAL TRAP, BARN OWL, TYTO ALBA, JORDAN, TAPHONOMY
[+info] VOLUME 9. ISSUE 2. 2011 (2 issue)
Preliminary taphonomic investigations were carried out at the site of Wadi Zarqa Ma'in 1 (WZM-1), at 31o37'N, 35o43'E, approximately 730 m above mean sea level and 10 km south-southwest of Madaba, Hashemite Kingdom of Jordan. This large, open sinkhole is a natural faunal trap and raptor roosting site, accumulating significant faunal remains within deposits likely reaching well into the Pleistocene. The Minimum Number of Individuals (MNI) of identified megafauna and microfauna totals 629, with a minimum of 30 taxa represented. Nine actual or potential vectors of faunal introduction were identified, including prey of roosting raptors, natural mortality of sinkhole inhabitants, accidental falling, and deliberate introduction of dead animals by humans. Roosting raptors include barn owl (Tyto alba), the prey remains of which yielded the majority of the species diversity and total MNI. This site offers a unique opportunity to collect data on the on-going function of a prolific faunal trap in a semi-arid Near East environment, and multiple significant taphonomic considerations can be drawn from it for the analysis of both its own deposits and those of similar karst features.
Taphonomy of Bones from Baboons Killed and Eaten by Wild Leopards in Mapungubwe National Park, South Africa.
Travis Rayne Pickering, Jason L. Heaton, Sarah E. Zwodeski, Kathleen Kuman.
Keywords: FELID PREDATION, PRIMATE MORTALITY, SKELETAL PART REPRESENTATION, BONE SURFACE MODIFICATIONS, SWARTKRANS CAVE
[+info] VOLUME 9. ISSUE 2. 2011 (3 issue)
Taphonomic data are presented for a bone assemblage composed of the remains of seven baboons killed and eaten by wild leopards in Mapungubwe National Park (South Africa). Mortality and sex distributions of the sample meet theoretical expectations of a leopard-produced assemblage and skeletal part patterning, as well as gross patterns of bone modification, match conditions of other leopard-derived faunas composed of small- and medium-size prey, but bone surface damage is much more intensive than previously documented in collections produced by leopards. These data are analyzed comparatively and their paleoanthropological relevance for the interpretation of important fossil primate faunas, such as those from Swartkrans Cave (South Africa), is discussed.