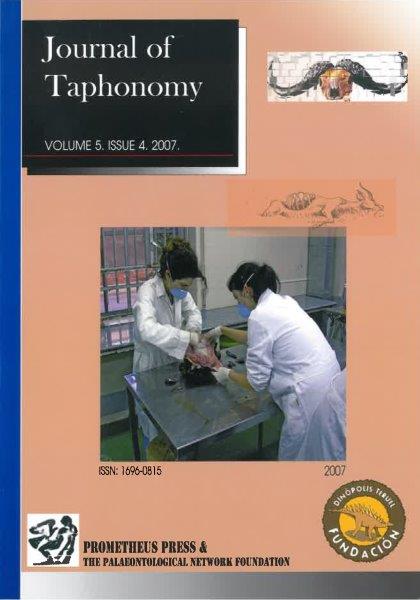 Criteria for the Identification of Formation Processes in Guanaco (Lama guanicoe) Bone Assemblages in Fluvial-Lacustrine Environments.
María A. Gutierrez, Cristian A. Kaufmann.
Keywords: SITE FORMATION PROCESSES, GUANACO (Lama guanicoe), BONE DISPERSION POTENTIAL, ONTOGENETIC DEVELOPMENT, FLUVIAL AND LACUSTRINE ENVIRONMENTS, ARGENTINA
Taphonomy in Present Day Desertic Environment: The Case of the Djourab (Chad) Plio-Pleistocene Deposits.
Denys, Christiane, Schuster M., Guy F., Mouchelin G.,Vignaud P., Viriot L., Brunet M, Duringer P., Fanoné F., Djimdoumalbaye A, Likius A, Mackaye H.T., Sudre J.
Keywords: DJOURAB DESERT, CHAD, HOMINIDS, WIND ABRASION, REWORKING

Brachiopod Shells on the Beach: Taphonomic Overprinting in a Fair-Weather Shell Accumulation.
Marcello Guimarães Simões, Sabrina Coelho Rodrigues, Juliana de Moraes Leme, Ricardo Angelim Pires-Domingues.
Keywords: BRACHIOPOD SHELLS, TAPHONOMIC OVERPRINTING, ABRASION, SHELL SURFACE TEXTURE, SPATIAL FIDELITY, BEACH ENVIRONMENT, LATE HOLOCENE