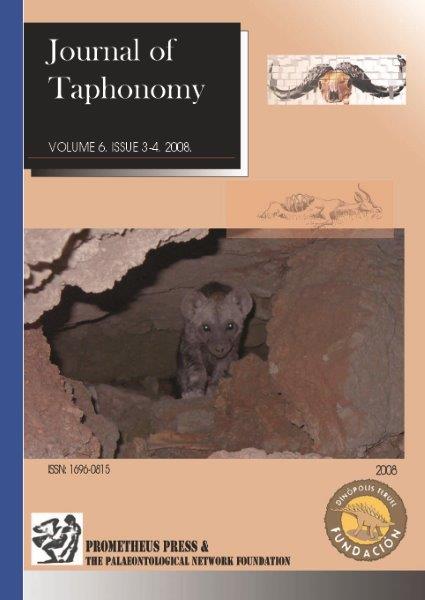 Cetaceans from a Possible Striped Hyaena Den Site in Qatar.
Peter Andrews
Keywords: BONE ASSEMBLAGE, BONE BREAKAGE, PORPOISE PREDATION, SCAVENGING, PUNCTURE MARKS

[+info] VOLUME 6. ISSUE 3 & 4. 2008 (2 issue)
A small bone assemblage from Qatar is described. The bones were found in a small cave eroded out of marine sediments and the most likely accumulator of the bones was striped hyaena, Hyaena hyaena. Four species of large mammal are represented in the assemblage, striped hyaena, camel, gazelle and the finless porpoise. In addition there were some rodent and bird bones, the origin of which was uncertain. There were 68 identifiable large mammal bones in total, 2 skulls, 6 mandibles, 11 isolated teeth and 23 postcranial elements, together with 26 ear ossicles of the finless porpoise. In addition, 10 indeterminate large mammal bones were collected. The assemblage was identified as a striped hyaena accumulation firstly by the presence of a skull and mandible of this species in the assemblage, and secondly by the nature of the damage and modifications of the bones. The striped hyaena is probably now extinct in Qatar, and one of the bones was dated radiometrically to 580 ± 200 years. This bone showed characteristic signs of desiccation, and it is similar in preservation to the rest of the assemblage. The numbers and sizes of chewing marks are similar to those seen in spotted hyaena assemblages, and particularly when the maximum sizes of marks is taken into account they are distinct from canid chewing marks. The most striking feature of the assemblage is the abundance of finless porpoise skull bones representing at least 13 individuals, and this is taken to indicate that the hyaena was hunting or scavenging along the coast of the Arabian Gulf about 4km from the den site.
Taphonomic Analysis of a Modern Spotted Hyena (Crocuta crocuta) Den from Nairobi, Kenya.
Amy G. Egeland, Charles P. Egeland, Henry T. Bunn.
Keywords: TAPHONOMY, SPOTTED HYENA, TOOTH MARKS, BONE BREAKAGE, FAUNAL ANALYSIS, PALEOFAUNA
[+info] VOLUME 6. ISSUE 3 & 4. 2008 (3 issue)
This paper provides detailed taphonomic data on a modern spotted hyena (Crocuta croctua) den assemblage collected near Nairobi, Kenya. Weathering data, skeletal part abundances, bone surface modifications, and bone fragmentation data indicate that: (1) spotted hyenas (and other agents) accumulated bones at the locality over many years; (2) density-mediated attrition played an important, though not singular, role in structuring skeletal part patterning; (3) a majority of the carcasses acquired by the hyenas were transported incompletely back to the den; (4) the low level of competition characterizing the den resulted in reduced levels of bone destruction that could potentially be tracked in a similar fossil assemblage. Although these data present interesting possibilities for interpreting fossil bone accumulations, many more dens must be analyzed using similar methods in order to fully realize this potential.
Taphonomic Analyses of a Hyena Den and a Natural-Death Assemblage Near Lake Eyasi (Tanzania).
Mary E. Prendergast, Manuel Domínguez-Rodrigo.
Keywords: TAPHONOMY, HYENA DEN, NATURAL DEATH, BONE SURFACE MODIFICATIONS, SKELETAL PART PROFILES, EAST AFRICA, CARNIVORES.

[+info] VOLUME 6. ISSUE 3 & 4. 2008 (4 issue)
Spotted hyena dens are usually characterized by moderate to intense ravaging of bones, high tooth mark rates and the presence of digested bone. This paper presents a taphonomic study of such a den and of a nearby natural-death assemblage. Together these studies widen the known range of variability of taphonomic attributes of assemblages accumulated and/or modified by spotted hyenas. The den, which is the focus of our study, is characterized by a low degree of bone breakage and ravaging, intermediate tooth mark frequencies, a moderate amount of trampled bone and a lack of digested bone. In a comparative discussion, drawing on several published hyena-made assemblages, we highlight several features of hyena accumulations that are quite variable. Such variability should be well-understood when applying actualistic studies to the fossil record.
Bone-Crunching Felids at the End of the Pleistocene in Fuego-Patagonia, Chile.
Fabiana M. Martin.
Keywords: FELIDS, MYLODONTINAE, HORSES, FUEGO-PATAGONIA, PLEISTOCENE

[+info] VOLUME 6. ISSUE 3 & 4. 2008 (5 issue)
The fragmented bone remains of extinct mammals recovered at several late Pleistocene sites in Fuego-Patagonia are analyzed. Indications of human involvement with the bones are not abundant and some of the sites are purely paleontological. However, all of them preserve large carnivore tooth marks. Some of the sites can be explained as accumulations produced by extinct felids.
Paleoecological Information in Predator Tooth Marks.
Briana L. Pobiner.
Keywords: TOOTH MARKS, TRACE FOSSIL, PREDATION, SHARK, CROCODILE, DINOSAUR, RODENT, CARNIVORE
[+info] VOLUME 6. ISSUE 3 & 4. 2008 (6 issue)
This paper reviews the evidence for tooth marks made by sharks, crocodiles, dinosaurs, rodents, and especially mammalian carnivores on modern and fossil bones. The ecological and taphonomic information revealed in tooth marks, including: predator identity, prey preferences, and feeding behavior and ecology are discussed, and a compilation of metric measurements of taxon-specific modern and fossil mammalian carnivore tooth marks from the published literature is also provided. Some recommendations intended to improve the scope and scale of future tooth-damage research are also presented.
Reanalysis and Reinterpretation of the Kalkbank Faunal Accumulation, Limpopo Province, South Africa.
Jarod M. Hutson, Chester R. Cain.
Keywords: KALKBANK, TAPHONOMY, CARNIVORES, PREDATION HOT SPOT
[+info] VOLUME 6. ISSUE 3 & 4. 2008 (7 issue)
Previous accounts of the late Pleistocene Kalkbank faunal accumulation cited humans as the primary agent of accumulation. Here we present the first in-depth taphonomic analysis of the fauna. Revised interpretation based on surface modification and bone breakage patterns reflect an overwhelming carnivore presence at the site. The only indications of human involvement with the fauna were a few stone tools and three possible hammerstone percussion marks. Porcupine involvement with the assemblage was considerable, but appears to be secondary to carnivore predation. The site likely represents a serial predation site where carnivores regularly ambushed prey near the margins of an ancient pan. Published accounts of fossil predation hot spots are rare, and much of the available data on these sites originate from modern landscape studies. Evidence from the Kalkbank accumulation suggests that patterns seen at fossil predation hot spots may not conform to patterns observed in modern accumulations.