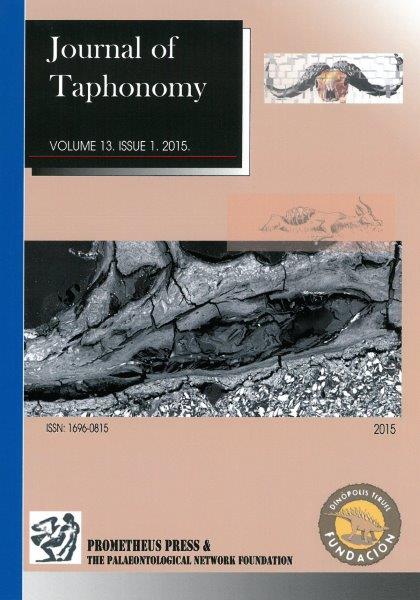 Evaluating the Role of Skill Level in Fish Butchery.
Lauren M. Willis, Andrew R. Boehm.
Keywords: EXPERIMENTAL ARCHAEOLOGY, CUT MARKS, CHINOOK SALMON, SKILL, KNOWLEDGE, KNOW-HOW, BUTCHERY
[+info] VOLUME 13. NUMBERS 1. 2015 (1 issue)
Recent butchery experiments have acknowledged the potential influence of experience level on experimental results. This paper evaluates the effect of skill level on the number and distribution of cut marks produced on fish bone during butchery. Participants of varying skill levels (novice, intermediate, and professional) butchered a total of 30 salmon. Professional butchers differed from intermediate- and novice-level butchers in the number of cut marks produced and the amount of time required to butcher the fish. Specifically, the professional butchers produced nearly 50% fewer cut marks than novices and intermediate-level butchers; the intermediate- and novice-level butchers were statistically indistinguishable. The distribution of the cut marks varied both within and between the skill levels. These results have implications for experimental methodology and for future efforts to identify butchery skill within the archaeological record.
Weathering and Dispersal of a Cattle (Bos taurus) Carcass in the Desert of Eastern Jordan over a Six-Year Interval.
James T. Pokines, Christopher J.H. Ames.
Keywords: WEATHERING, BOS TAURUS, DISPERSAL, DESERT, TAPHONOMY, JORDAN
[+info] VOLUME 13. ISSUE 1. 2015 (2 issue)
A recently dead carcass of domesticated cattle (Bos taurus) was examined for patterns of subaerial weathering and dispersal over the course of six years in Wadi Enoqiyya, north of Azraq in the eastern desert of Jordan. The progress of taphonomic changes was plotted at one- or two-year intervals. Weathering stage 1 was reached rapidly by multiple exposed elements, and by the six-year mark, several elements had reached weathering stage 3 in the system of Behrensmeyer (1978). Minor scavenger modification was detected. Seasonal alluvial transport in the nearby wadi and trampling from goat/sheep herds were found to be significant sources of dispersal, along with carnivore scavenging. Some elements were transported up to 121 m by year six, with a cumulative distance of dispersed elements reaching 583 m.
Cannibalism in the Neanderthal World: An Exhaustive Revision.
Marta Yustos, José Yravedra Sainz de los Terreros.
Keywords: NEANDERTHALS, CANNIBALISM, CUT MARKS, DEFLESHING, TAPHONOMY
[+info] VOLUME 13. ISSUE 1. 2015 (3 issue)
Cannibalism is a controversial subject that has always created great expectation. Different evidences found show it was a recurrent practice amongst the different hominine species from the Lower Pleistocene to historic times. However, understanding the reasons behind this behavior in such chronologies is a complicated matter. Several Neanderthal sites have uncovered new data on anthropogenic alterations on human remains, along with a great diversity of interpretations. Some authors highlight the possibility of a ritual or symbolic meaning whereas others believe this was due to dietary necessities since studied cut marks resemble those found on faunal remains. The aim of this study is to carry out an exhaustive Neanderthal cannibalism bibliographic revision, with especial focus on taphonomical evidences such as cut mark frequencies and cut mark anatomical distribution. The main objective of this study is therefore to ponder on Neanderthal cannibalism and propose new insights on this behavior.