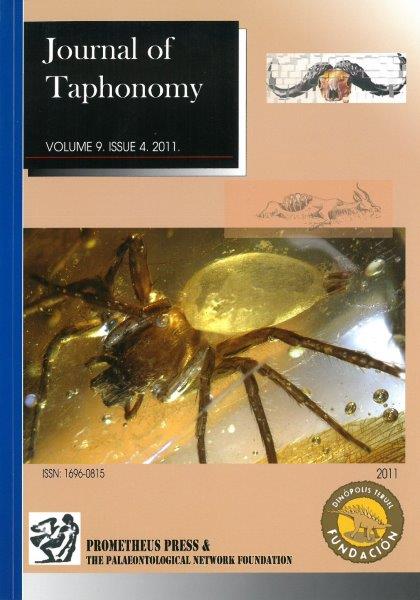 Small Carnivore Skinning by Professionals:Skeletal Modifications and Implications for the European Upper Palaeolithic.
Aurore Val, Jean-Baptiste Mallye.
Keywords: FUR-USE; SMALL CARNIVORES, CUT MARKS, TAXIDERMISTS, EXPERIMENTAL STUDY, TAPHONOMY, SUBSISTENCE STRATEGIES, EUROPEAN PALAEOLITHIC

[+info] VOLUME 9. ISSUE 4. 2011 (1 issue)
From the Upper Palaeolithic to the beginning of the Holocene, the presence of small carnivores in archaeological context is widely interpreted as evidence for peltry activities. This hypothesis is supported by several arguments, including the skeletal-part representation, the spatial distribution of bone remains, and the nature of cut marks on bones. At the end of the Palaeolithic, the question of whether small carnivores were utilised only for their skin or for their meat as well is still under debate. It has been postulated that the consumption of small carnivore meat has been underestimated in the past. In this paper, we propose a new experimental record of bone modification on small carnivore skeletons resulting from skinning by three taxidermists. The professionals produced cut marks on all the skeletons in the sample. The skinning marks are always localised on the same bones and on similar locations on those bones. We argue that this set of reference skinning marks constitutes a new tool that will prove useful in understanding the role played by small carnivores in the subsistence strategies of Palaeolithic hunter-gatherers.
An Alternative Bilateral Refitting Model for Zooarchaeological Assemblage.
Matthew O'Brien, Curtis B. Storlie.
Keywords: ANATOMICAL REFITTING, BILATERAL REFITTING, FAUNAL REFITTING, AND MULTIVARIATE STATISTICS
[+info] VOLUME 9. ISSUE 4. 2011 (2 issue)
Since the 1980s, the development of anatomical refitting methods opened the door to interpreting the single versus multiple occupations, separate households versus distinct activity areas, and unique food sharing of archaeological sites. In particular, bilateral refitting is a useful tool to link the social concepts and theory from cultural anthropology and apply them to the static remains of the archaeological record. Recently, critiques have raised concerns about the accuracy and precision of predictions that has limited the application of bilateral refitting. Bilateral asymmetry and large sample sizes have inhibited the success of univariate and bivariate refitting schemes. This paper presents a multivariate model that renews the potential of anatomical refitting. The flexibility of this approach allows for bilateral refitting of complete and partial skeletal elements. Through a battery of trials on simulated assemblages of pronghorn (Antilocapra americana) humeri and empirical datasets, the results indicate significantly higher rates of successful matches and lower rates of Type I and Type II errors than existing methods.
Taphonomic Analysis and Geometric Modelling for the Reconstitution of the Ediacaran Metazoan Corumbella werneri Hahn et al. 1982 (Tamengo Formation, Corumbá Basin, Brazil.
Miriam L.A.F. Pacheco, Juliana Leme, Anderson Machado.
Keywords: CORUMBELLA WERNERI, TAPHONOMY, ALTERED MORPHOLOGICAL ATTRIBUTES
[+info] VOLUME 9. ISSUE 4. 2011 (3 issue)
The Ediacaran scyphozoan Corumbella werneri is one of the oldest animals capable to perform skeletogenesis. This metazoan had a thick carapace, but also a low potential of fossilization due to its organic or weakly mineralized nature and have almost always frequently a fragmented and compressed fossil record lacking key taxonomic features. Hence, such original description as recent ones may be under taphonomic biases which resulted in deformation of morphologic features incurring in wrong taxonomic descriptions. In order to magnify the taphonomic spectrum and reduced the taphonomic bias of its altered morphology, we performed here a study of detailed morphology, under description of fossilization modes and discussion of different taphonomic classes observed on C. werneri from Tamengo Formation and its implications on key morphological features used to establish taxonomic affinities. Structural and morphological attributes were reconstituted by the means of a geometric modelling.